Sunday 22nd August 2021
The original idea was to play a few tunes outside our local, The Otter, on a Sunday afternoon. However, it was transformed into a full-blown concert on the recreation ground. As the village came out of lock down it was thought that it would be nice to provide an event for the village to look forward to, and we were not mistaken. They had missed out on the annual village fete and the Christmas and Last Night of the Proms concerts that have been a feature for many years. We chose not to wear uniform to display the relaxed intention of the occasion and that, too, worked well.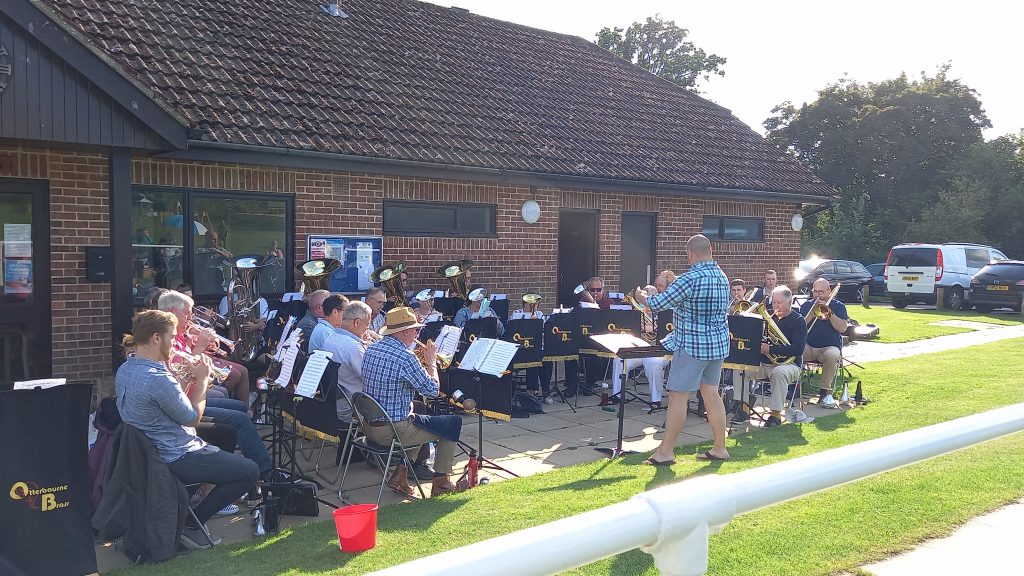 The venue was ideal as there were still restrictions to be considered owing to the pandemic. However, the setting lent itself to the occasion with the white perimeter railing acting as the necessary barrier between the audience and band.
With minimum publicity, the village turned out to listen to a program of music that Council lead Kevin Stafford later described as being of a wide variety with something for everyone.
Despite the long layoff from playing, we played to a very high standard, and the new music that Musical Director Mark Gibson chose to sit alongside some tried and tested 'Standards' were well received by the audience and band members alike.
Opening in traditional fashion with the March Arromanche, we proceeded to delight the mixed audience with music as far ranging as Disney Fantasy to a new arrangement by Mark Gibson of the Guns n' Roses hit, Welcome To The Jungle.
Two fine soloists, principal cornet Mark Pye and Flugel horn player Jonathan Rayner, impressed the audience with Georgia On My Mind and Concerto De Aranjuez respectively, providing further evidence that Otterbourne Brass had lost none of its entertainment value or its high standard of performance.
As the audience dispersed we struck up with a rousing version of Karl King's march The Melody Shop, which caused the audience to pause for a moment and to reflect on a new dawn which was well presented, very well received and I'm sure will be remembered for many years to come.
You can listen to a selection of our music playlist from the Brass on the Grass 2021 on our Music page.
---
Article by Roger Burke